Islamic State: Talk to terrorists' periphery, says Lord Hain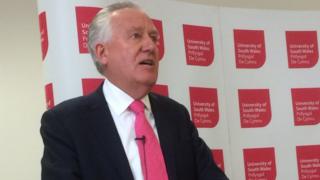 Negotiations are needed with the "periphery" of so-called Islamic State (IS) to isolate the "hardcore" terrorists, a former Northern Ireland secretary has said.
Lord Hain claimed the hardliners would be very difficult to engage with, as they lacked a "negotiating objective".
The comments came in a lecture at the University of South Wales in Treforest.
The Foreign Office said it would not consider dialogue with a "barbaric" terrorist group intent on destruction.
The Labour peer - who was also Welsh Secretary - drew parallels with Northern Ireland, saying IS's call to arms resonated with Sunni Muslims persecuted in Iraq in the same way that the IRA had tacit support from "otherwise peaceful Catholics".
He added that, as with the IRA, it could be possible to negotiate with people on the periphery of IS rather than the hardliners.
'Feeds off grievances'
Speaking to BBC Wales following the lecture on Thursday, Lord Hain said: "IS have got to be defeated militarily otherwise they will run amok. The only way to stop them is by military action.
"But we have got to create a political environment through political negotiation, especially with Sunni Muslims who see IS as a protective vehicle against Shia Muslims, the West, President Assad, or sectarian Shia rule in Iraq.
"We have got to be able to engage and negotiate with the periphery of IS," Lord Hain said.
"The hardliners inside [the group] will be very difficult to negotiate with because they do not have a negotiating objective the way the IRA did on Northern Ireland.
"We have got to peel away that periphery of support from IS that feeds off grievances ... and isolate the IS hardcore."
'Ruthlessly potent threat'
Asked if the IS "periphery" would be receptive to talks, Lord Hain said: "There would be a receptiveness if Britain, the US and Europe were actually saying this clearly, and that means taking on some of our allies in the region who are acting malevolently, particularly Saudi Arabia and Turkey. "
Lord Hain, who referred to IS in his lecture as a "ruthlessly potent threat", also spoke of his wish for Arab states to take "ownership" of conflicts in the Middle East.
"Otherwise Western states run the risk of minimising the threat of IS against Arabic states, thus minimising those states' responsibility to act," he said.
He praised the UK's role in air strikes against IS in Iraq, but warned that troops on the ground would be "entirely counterproductive".
Western intervention in Iraq against Saddam Hussein in 2003 was a "salutary case" of where things could go disastrously wrong, Lord Hain added.
A Foreign Office spokesman said: "We are disgusted by the brutality and inhumanity of Daesh [Islamic State] in the Middle East and the resulting humanitarian crisis.
"We know that we are up against a barbaric terrorist group that is intent on destruction, not dialogue.
"In these circumstances the government would not consider any proposal to enter into a dialogue with an organisation of this kind."
Welsh Conservative leader Andrew RT Davies called Mr Hain's negotiation suggestion "irresponsible" and "naive".