Rent Smart landlord register 'chaos' claims denied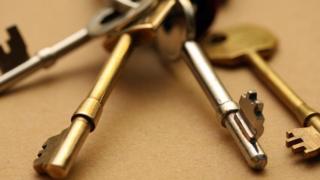 Opposition party claims that a system registering all residential landlords across Wales for the first time is in chaos have been denied by ministers.
The Welsh Tories' Russell George said staff were overwhelmed.
Communities Secretary Carl Sargeant told the Senedd: "To suggest that they are in chaos is completely rubbish."
Figures from the Residential Landlords Association (RLA) say 110,000 need to register - but Welsh Government figures suggest it is as low 70,000.
Anyone failing to register on time is liable for a minimum fine of £150.
There is a week to go until the new Rent Smart scheme deadline runs out. Calls have been made for an extension.
So far, just under 50,000 people have registered, with more than a 1,000 yesterday alone.
The RLA says there are 110,000 people who need to apply in Wales, although the Welsh Government says that is at the upper range of estimates, which could be as low as 70,000.
'Not enough staff'
Mr Sargeant also dismissed a call from Plaid Cymru's Neil McEvoy to extend the deadline.
Russell George, the Welsh Conservative economy spokesman, told AMs in the Senedd: "Rent Smart Wales appears to be in chaos. It seems there is not enough staff to make calls.
"Some people are unable to make payments on line and staff are completely overwhelmed by demand. This is not good enough."
In his response, Mr Sargeant said: "To suggest that they are in chaos is completely rubbish.
"I do not think that is an organisation in chaos.
"They are doing a very good job. The fact is this has been an 11 month process to register so do not come and claim to me that the programme is in chaos."