Disability benefits: BMA attacks suggestion of GP role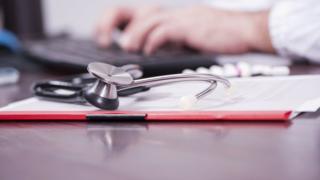 Doctors' leaders have criticised the first minister and the Plaid Cymru leader for suggesting family doctors assess whether people should qualify for disability benefits.
Leanne Wood asked Carwyn Jones whether he thought GPs should take on the role.
He said that family doctors were "well qualified" to do the assessments.
But the British Medical Association (BMA) said doctors would struggle with the workload and could jeopardise their relationship with patients.
In the exchange, during First Minister's Questions on Tuesday, Mr Jones told Ms Wood he "could not disagree" with her suggestion that GPs carry out disability assessments.
He said he thought GPs were "perfectly well qualified to make an assessment as to whether someone should qualify for a particular benefit or not".
Dr David Bailey, deputy chairman of BMA Wales' GP committee said: "There would be an issue here of workload as it would take a doctor 45 minutes to carry out a proper assessment.
"My primary concern is to act on behalf of the patient and when making a decision on benefits, that could impact on the patient-doctor relationship."
Dr Bailey said such a move could put doctors in a difficult position.
"If someone came to me and it was a borderline case, then I would come down on the side of the patient," he added.