Kirsty Williams 'shocked' by schools' 'high' cash reserves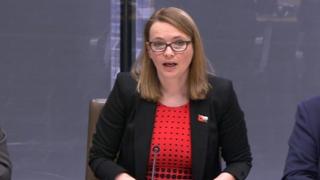 The education secretary has said she is "shocked" by how high some schools' financial reserves are.
Kirsty Williams told a committee of AMs schools have total reserves of £64m - the equivalent of "£142 per learner".
She told schools who might be "hanging on to that money for a rainy day" that: "It's raining".
A spokesman for councils said they helped schools "in dealing with deficits and surpluses" and would "continue to monitor" reserve levels.
Speaking to the assembly's Children, Young People and Education Committee, Ms Williams said: "The overall level of reserves held by schools has remained at £64m for a second year - that's the equivalent of £142 per learner.
"Some schools are in different positions, I was quite shocked to see some very high levels of reserves at some individual schools in Wales.
"In these times of really challenging budgets I want to make sure that local authorities have a real grip on those school budgets and that schools are making the intended use of the funding they receive."
'Best effect'
"I understand, and there could be reasons why schools are sitting on reserves to fund particular individual projects that they may be working on at the moment," the education secretary added.
"But my message is that if people are hanging on to that money for a rainy day, well it's raining and we need that money being used to its best effect."
Ms Williams said she wanted to make sure local councils were "satisfying themselves that levels of reserves that are being held by individual schools are appropriate".
But she said she should not "dictate a national level" of reserves, and that local authorities should deal with the matter on a "school-by-school" basis.
A Welsh Local Government Association spokesman responded: "During a period of austerity it is prudent to maintain an appropriate level of reserves, however this needs to be balanced with securing as much value as possible through investment in schools and delivering outcomes for pupils.
"Local authorities support schools in dealing with deficits and surpluses and will continue to monitor the levels of reserves within schools."