Cross-party support for uni student funding reform plan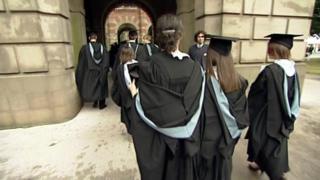 Two cross-party assembly committees have given their support to proposed changes to how Welsh university students are funded.
A review led by Prof Ian Diamond recommended a grant covering tuition fees be replaced with support for living costs.
But one committee said there was "uncertainty" over whether the recommendations were cost neutral.
The Welsh Government said this had not been specifically required.
As well as proposals for students starting out at university, the policy recommends postgraduate-taught masters students receive the same level of support as undergraduates.
Russell George, chairman of the economy, infrastructure and skills committee, said: "There was particular enthusiasm among those we spoke to for the notion that all students - not just those undergraduates aged 18+ in full-time education - will be eligible for support based on need."
Ms Neagle, chairwoman of the children, young people and education committee, said: "Professor Diamond offers some sensible, progressive and deliverable options in his review."
Both Ms Neagle and Mr George set out their committee's views in letters to Education Secretary Kirsty Williams.
However, Ms Neagle wrote there was some "uncertainty as to whether the recommendations presented in the report would be cost neutral" - where the savings they would realise would offset their cost.
She asked Ms Williams to clarify whether Prof Diamond was asked to make "cost-neutral" recommendations and whether this requirement was changed during the course of the review.
A Welsh Government spokesman said Ms Williams would be responding to the committees' letters in due course.
"The terms of reference for Sir Ian's review were published at the outset. Sir Ian was under no specific requirement to make his recommendations cost neutral and there was no change to that during the course of the review," the spokesman added.
The policy as a whole is thought to be cost neutral compared to the current system of support, but the changes in undergraduate study could save the Welsh Government around £100m a year.