Business rates rise risk to firms, AMs warn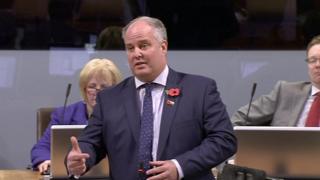 Some small firms are "hanging on by their fingernails" in the face of business rate rises, opposition AMs have warned.
First Minister Carwyn Jones came under pressure in the Senedd on Tuesday over support for companies hit by revaluations.
Welsh Tory leader Andrew RT Davies said some firms could be out of business by April 2018.
Mr Jones said £10m had been made available to help those affected.
Rateable values for businesses all over Wales and England have been re-calculated, with the tariffs based primarily on how much a property would cost to rent.
Valuations were last calculated in 2010 based on 2008 prices. The new rate is based on 2015 prices.
UK government figures show that rateable values, on average, are set to drop in urban areas of Wales apart from some prime city centre sites.
But figures from the Valuation Office Agency show rateable values are on the rise in many rural areas.
Company owners in Monmouthshire have told BBC Wales that some of them face increases in excess of 130%.
The Welsh Government is planning to introduce a new permanent rate relief scheme to replace temporary arrangements for small businesses by 2018.
Labour had described this as a "tax cut" at the assembly election - but the Federation of Small Businesses said the claim was "misleading".
'Done pretty poorly'
Mr Davies told First Minister's Questions: "Many businesses face horrendous increases in their business rates.
"Secondary retail properties and also hospitality areas seem to have done pretty poorly under this valuation.
"Many are facing a huge increase in their rateable values," he said, "well over 100% in many instances."
Mr Davies added: "Unless more is done in this current budget round to offer assistance to business who find themselves on the wrong end of these valuations, they just aren't going to be around in April 2018".
He said many firms were having a "horrendous time" accessing the Valuation Office and getting the process under way to challenge their decision.
The first minister said he would expect most businesses to see a reduction in their rateable value "if only for the fact that the last valuation took place in 2008 before the world economic crisis".
Mr Jones told Mr Davies the government's small business rate relief scheme was reaching "a greater percentage of businesses" than was the case in England, and that a transitional relief scheme worth £10m would help firms looking at "substantial rises" in their rates.
He urged firms who felt they were overvalued to contact the Valuation Office as quickly as possible to raise their concerns.
Independent AM and former UKIP Wales leader Nathan Gill said he had been told by small businesses that they were "hanging on by their fingernails".
He said one company owner had contacted him to say her re-evaluation had resulted in a 48% increase in her rateable value.
Tory AM Russell George said Labour candidates in the assembly election had told small businesses in Powys they should "vote Labour and get a tax cut".
He said many such firms were now facing a business rate hike.
The Welsh Government said last week: "Our Small Business Rates Relief scheme will save small businesses in Wales from having to pay £100m in tax in 2017-18 and a new permanent scheme will be introduced from 2018 onwards.
"We also know business rates can represent a higher proportion of costs for smaller businesses - that's why we decided to act and announced a £10m transitional relief scheme, which will be available from 1 April 2017 when revaluation comes into effect."