UKIP's Neil Hamilton 'had no part' in employing wife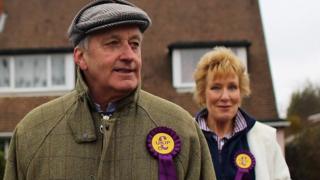 UKIP assembly group leader Neil Hamilton has said he had no role in the appointment of his wife Christine as his personal assistant.
Four UKIP AMs employ family, as do four Labour and four Tory AMs.
Mr Hamilton said it is the assembly that is responsible for the appointment process, not individual AMs.
"I played no part whatsoever in the appointment of my wife as my PA and diary secretary," Mr Hamilton told BBC Wales on Wednesday.
"She does have 26 years of experience in the House of Commons to fall back on and works 24/7, because it is part of our pillow talk as well."
The former Conservative MP made the comments to The Wales Report programme. It is not against the rules for AMs to employ family members.
"It's totally irrelevant," Mr Hamilton said when asked whether UKIP AMs employing family members sends out a message that they are just like other politicians.
"If you look at the position in the other parties, lots of them do as well.
"In the case of family members it's the assembly that is responsible for the appointments, not the individual AMs.
"They all have to go through a formal selection process carried out by the HR department of the assembly."
Full list
According to the current register of members interests, assembly members employing family members are:
Mohammad Asghar, Conservative, who employs his wife as a case worker for 22.2 hours a week and his daughter as an office manager for 22.2 hours a week.
Michelle Brown, UKIP, who employs her brother as a caseworker for 37 hours a week
Angela Burns, Conservative, who employs her husband as a researcher and caseworker for 18.5 hours a week
Rebecca Evans, Labour, who employs her husband as head of office for 37.5 hours a week and her sister for 18.5 hours a week
John Griffiths, Labour, who employs his wife as an administrator for 37 hours a week
Neil Hamilton, UKIP, who employs his wife Christine as a diary secretary and caseworker for 37 hours a week
Mark Isherwood, Conservative, whose employs his wife as a caseworker for five hours a week
Darren Millar, Conservative, who employs his wife as an administrator and caseworker for 22.2 hours a week
Mark Reckless, UKIP, who employs his wife as a senior adviser for 29.6 hours a week
David Rees, Labour, who employs his daughter as a researcher and communications officer for 22.3 hours a week
David Rowlands, UKIP, who employs his wife as head of office for 37 hours a week
Joyce Watson, Labour, who employs her daughter as a researcher for 14 hours a week
The Wales Report, BBC One Wales, 22:40 GMT, Wednesday, 2 November