Climate change spending cut by Welsh Government criticised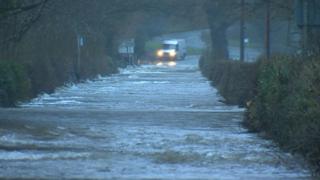 Welsh ministers have been criticised for cutting capital spending on climate change projects by 36% over two years.
Investment to tackle issues like fuel poverty and floods will fall from £77m in 2016-17 to £49.3m in 2018-19.
UKIP AM Mark Reckless said the move "reflects poorly" on ministers who had criticised his party for calling for the budget to be axed completely.
Environment Secretary Lesley Griffiths said she had to make some "very difficult decisions".
The capital budget covers investment in infrastructure projects, while the revenue budget covers day-to-day spending.
Documents submitted to the assembly's climate change committee show capital spending for flood risk management and water will fall over two years from £30.4m in 2016-17 to £17m by 2018-19.
Day-to-day spending for the whole climate change and sustainability budget - set annually - is falling from £110.9m in 2016-17 to £104.9m in 2017-18.
"The Welsh Government made a great deal before the election about spending £70m-odd on climate change projects," said Mr Reckless, who chairs the assembly's climate change committee.
"The First Minister and his cabinet were very critical of people in UKIP that wanted to cut this spending."
Mr Reckless said it "reflects poorly" on Carwyn Jones and Ms Griffiths "to criticise UKIP so strongly before the election for proposing cuts in this area and to then slash the budget".
Ms Griffiths told the committee on Wednesday: "I am having to make some very difficult decisions as you've seen on the capital side.
"Going forward... I'm hoping the cabinet secretary for finance and local government [Mark Drakeford] will be able to look at reserves, for instance, after the autumn statement.
"Believe me, I've been banging on his door already in relation to this. He is very sympathetic to the fact that I have had such reductions in my capital budget."
Ms Griffiths said she had not "singled" out spending on fuel poverty, the capital spending for which falls from £26.5m to £19m.
Later, Plaid Cymru AM Simon Thomas told the Senedd the government did have a "real question to answer" over the issue.
But he said it was "better than wiping out the budget altogether" which he said he believed was in Mr Reckless' manifesto commitment.
Anne Meikle, head of the Worldwide Fund for Nature (WWF) Cymru, said the cut in funding was "especially disappointing" in light of the assembly's Well-being of Future Generations law.
"Ministers should instead be investing more, not less, in measures which would help cut greenhouse gas emissions, create jobs and improve health and wellbeing," she said.
Responding to the comments by Mr Reckless, a spokesperson for the Welsh Government added: "The chutzpah coming from UKIP on this issue is astonishing.
"Not only is this a party which denies climate change - they went into the assembly election with an outright pledge to cut the entire budget line they now seem to be defending."