Nissan Brexit assurances clarity sought by Welsh minister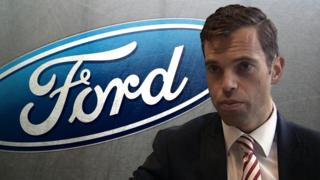 Brexit assurances which have convinced Japanese car giant Nissan to stay in the UK should also be given to Welsh firms, the economy secretary has said.
Ken Skates has written to UK Business Secretary Greg Clark seeking "clarity" on the "exact nature" of the pledge.
Nissan committed to invest in its Sunderland plant after "support and assurances" about the UK's future.
Mr Skates said the terms of Brexit "cannot be handled on a piecemeal, factory-by-factory basis".
Despite fears that Brexit might result in tariffs and other trade barriers on UK-produced cars, Nissan has promised to build two new ranges in Sunderland, safeguarding thousands of jobs.
Downing Street has said its discussions with the firm had been "open and honest", but Mr Clark told MPs on Monday he would not publish his letter to Nissan because it contained sensitive commercial details.
In September, Mr Skates said Ford's announcement of cuts in production at its Bridgend engine plant showed the need for continued free trade, although the firm itself had not given Brexit as a reason.
Writing to Mr Clark, Mr Skates said: "From the press coverage, it appears that the UK government has offered a substantial package of support to Nissan.
"I would welcome detail and clarification on the exact nature and level of support offered.
"I would also welcome clarification in relation to Welsh car manufacturers and how other industries can access similar packages of support and how this would be funded.
"The UK's exit from the EU could impact on a number of companies, which in turn can benefit from support should they choose to remain in the UK."
Explaining the reasons for his letter, Mr Skates said the UK government should not disadvantage the Welsh economy "by giving privileged information about our possible future trading relationship with the EU to firms over the border - or even overseas - that is unavailable to companies here in Wales".
"Leaving the EU needs to be managed much more carefully than it currently is by the UK government if they wish to avoid badly damaging business and investor confidence," he added.
On Monday in the Commons, Bridgend MP Madeleine Moon asked Mr Clark if he would be talking to her local Ford car plant "on the same lines" as Nissan.
In reply, the minister said the UK government wanted "to maintain the competitiveness of the whole automotive sector".
"We want to build on the strengths that it has in every part of the United Kingdom, including in her constituency, so that it can prosper in the future," he said.
"I hope that that will be welcomed."
Meanwhile First Minister Carwyn Jones denounced the UK government's approach to Brexit and trade as a "complete and utter shambles".
"I do not believe for one second that Nissan were persuaded to invest in Sunderland on the vague promise that the UK government would try not to have tariffs imposed on the automotive sector," he told AMs during First Minister's Questions on Tuesday.
"What about steel? What about aerospace? What about every other sector in the Welsh economy that's important?
"It shows a troubling, piecemeal approach to this rather than an overarching strategy," he said.