UK must guarantee EU funds for decade, Labour MP Kinnock says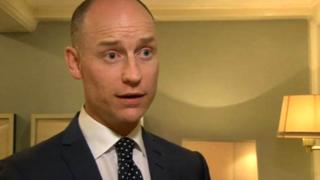 The UK government must guarantee EU levels of funding to Wales for a further decade, a Labour MP has said.
Stephen Kinnock said Wales faces being hit by export tariffs, rising inflation and the end of EU funding.
He said ministers' "increasingly antagonistic" attitude to the EU could harm the chances of Wales bidding for future cash.
Wales Office minister Guto Bebb said EU programmes will be unwritten by the UK government up until Brexit.
Speaking in a Westminster Hall debate about the impact of Brexit on funding in Wales, the MP for Aberavon called for more to be done to ensure the region does not see cash dry up.
He said: "The government must urgently make clear that it will underwrite all project funds agreed in the (period) 2014-20, (and) it will maintain EU levels of annual funding for Wales for at least a decade post-Brexit."
Wales receives more funding per head from the EU than the rest of the UK. It has been allocated £4.45bn from the EU for the period 2014 to 2020.
'Willing to underwrite'
Geraint Davies, Labour MP for Swansea West, warned Brexit could see job losses and a fall in investment, and called for another referendum.
But Mr Bebb said: "The Treasury will be willing to underwrite EU programmes in Wales up to the point of exit. That is a crucial and important commitment from the Government."
He said Wales has qualified for the highest amount of EU funding "again and again" but there has been a "failure" by the devolved administration to make the best of the funding available.
"We cannot deny that there are schemes in Wales that have been wasteful and inefficient," he added.
UK government rail minister Paul Maynard told MPs on Monday that the UK government would guarantee EU funding for the South Wales Metro project after Brexit if a successful bid was made.