'Hundreds of millions' in cuts warning over tax deal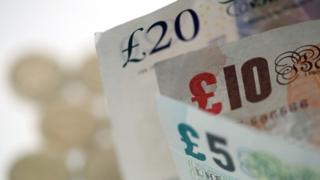 Wales could suffer cuts worth hundreds of millions of pounds if a deal on devolved tax does not take into account lower incomes, a report has warned.
Talks are continuing on Monday on how Treasury funding to Wales will change once AMs are granted tax powers.
A deal was recently struck for Scotland, but Cardiff University and the Institute for Fiscal Studies said the model may not suit Wales.
The UK Government said it was committed to coming to a "fair" outcome.
Currently, funding for the Welsh Government comes from the UK Treasury's block grant, but from 2018 stamp duty land tax and landfill tax will both be devolved to the assembly.
Further income tax powers are also set to be devolved under the provisions of the Wales Bill.
The Welsh Government and the UK Treasury are negotiating how the block grant will be reduced once the revenue from those taxes comes in through a mechanism known as the fiscal framework.
Mark Drakeford, the cabinet secretary for finance and local government, is meeting the Chief Secretary to the Treasury David Gauke on Monday.
'Millions at stake'
Ed Poole, of the Wales Governance Centre at Cardiff University, said: "Adjusting the Welsh block grant after tax devolution may seem a technical issue but it is far from trivial.
"Hundreds of millions of pounds are at stake for the Welsh budget."
The report said: "Although Wales shares with Scotland a rate of population growth substantially below that of England, it differs from Scotland in the extent to which the size and distribution of its tax base departs from that in England.
"Wales has substantially lower incomes than Scotland and England.
"These dissimilarities may result in hundreds of millions of unfunded cuts (or, in some circumstances, unfunded increases) to the Welsh budget if they are not appropriately factored in the fiscal framework agreement this autumn."
A Welsh Government spokeswoman said: "This is a useful report, which together with previous contributions from the Wales Governance Centre, illustrates the importance of the methodology for adjusting the block grant following the devolution of tax powers."
A UK Treasury spokesman said: "The UK government is committed to an outcome that is both fair to Wales and fair to the rest of the UK.
"We are continuing to hold constructive discussions with the Welsh Government and welcome these contributions from the Wales Governance Centre and the IFS."