Steel industry 'should be prioritised' by UK government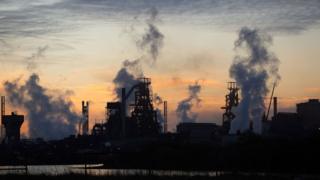 The steel industry remains "in crisis" and it is unclear whether the new UK government sees it as a priority, it has been claimed.
Carwyn Jones said former Prime Minister David Cameron was committed to supporting the industry but Theresa May's government seemed less concerned.
UK Steel, Tata, Celsa and Liberty also raised concerns while giving evidence to the assembly's economy committee.
The UK Government said it was "focused on working with the industry".
The steel companies told the committee that following the EU referendum and ministerial changes, there might be a perception at Westminster the problem had gone away.
Unions also warned the situation was "dire" and the UK government was offering little more than "warm words".
The turnaround plan put in place at Tata's Port Talbot site has seen losses there reduced and the company is now in merger talks with the German firm Thyssenkrupp.
The Indian firm put the sale of its Welsh operations on hold while those negotiations continued.
The Community steelworkers' union said if the merger looked like it would endanger jobs, then it would push for the sales process to be restarted.
Liberty confirmed it held talks with rival bidders for Tata's sites, the management buyout team Excalibur, and it would be willing to make a joint bid with them in future.
In an exclusive interview with BBC Wales last month, Excalibur chairman Roger Maggs said he was open to working with Liberty.
Celsa warned new orders had been slowing down since May and it said its parent company decided to invest in France rather than Cardiff this year because energy prices were still much higher in the UK.
The unions and companies also warned Brexit left a "cloud of uncertainty" over the industry, especially over the potential impact of tariffs.
Mr Jones said he was concerned the UK government was too focused on securing a good deal for financial services rather than manufacturing as part of any Brexit deal.
A UK government spokesman said: "As we said in our evidence to the committee, a great deal of work has been done to support the steel industry including tackling the dumping of cheap imports into the EU and buying British.
"The recent reopening of the plate mills in Scotland and the British Steel site at Scunthorpe, which has since hired more people, shows the sector can remain competitive with the right investment.
"We are focused on working with the industry and partners on safeguarding the long-term sustainable future of the steel industry in the UK."