No decision on post-Brexit aid system, says David Davis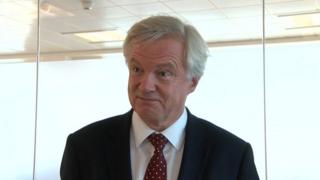 A decision is yet to be made on who will allocate cash to replace EU aid, the UK Brexit secretary has said.
After meeting First Minister Carwyn Jones in Cardiff, David Davis said the matter would be discussed "in detail" with the Welsh Government.
Welsh Tory leader Andrew RT Davies has said the cash could come directly from Westminster, not via Welsh ministers.
The Welsh Government said it would continue working with the UK government to get Wales the best deal possible.
Wales is getting £1.8bn in so called EU structural funds in the current 2014-2020 programme, while farmers received £240m in the Common Agricultural Policy's single payment scheme in 2014 alone.
The cash is currently administered by Welsh Government departments.
'Right decision'
Mr Davis said a system of replacement funding "appropriate to Wales" will be designed.
"We're underwriting them [the funds] to 2020 and after that the European Union may have a different system altogether," he said.
"What we'll do is design something appropriate to Wales, appropriate to all the nations of the UK.
"We will decide [which government allocates the funding] as we go along."
Mr Davis added: "We'll make the right decision for each of the nations, that's what we're going to do.
"And some of them will devolve but we'll discuss that in detail with the relevant governments."
Mr Davis said he had a "positive meeting" with Mr Jones and the two would continue to talk "throughout the whole negotiation process".
The Welsh Government said it would will continue to work with the Department for Exiting the European Union to ensure the best deal possible for Wales.