Welsh budget: Unison holds 'fairer funding' rally at Senedd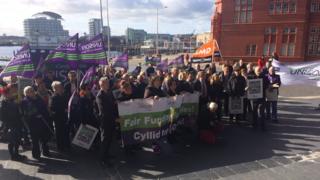 A union has held a rally calling for "fairer funding" before the Welsh Government announced its draft budget for 2017-18.
Unison called for activists from across Wales to lobby AMs at the Senedd in Cardiff Bay on Tuesday.
The union said public services had been "badly damaged" by the UK government's austerity measures.
The demonstrators gathered on the Senedd steps ahead of Finance Secretary Mark Drakeford's 14:30 BST statement.