M4 row: Roads formula 'benefits London and south east England'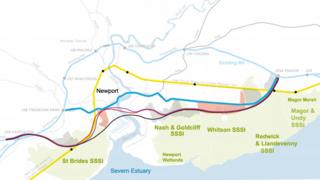 A new UK-wide formula for working out traffic projections was designed to benefit London and south east England at the expense of everywhere else, First Minister Carwyn Jones has said.
Welsh ministers have delayed a public inquiry into the M4 relief road until 2017 because of the changes.
But the Conservatives have called Welsh ministers' claims that the new forecasts were unexpected misleading.
Mr Jones said his officials only knew about the formula in July.
The Conservatives have maintained that the Department for Transport in Whitehall made officials in Cardiff aware of the potential changes nearly two years ago.
On Tuesday, Mr Jones told AMs: "As far as the Department for Transport are concerned, I would urge them to revise this data, and to have a proper process where data is published in draft, and then opportunity is given to examine its robustness rather than adopt the strange and unusual process they have adopted so far."
He said that the new data had "no apparent basis in fact" and that it benefits schemes in London, the south east and the east of England at the expense of everywhere else.
The Welsh Government wants to build a six-lane motorway to relieve congestion around the Brynglas tunnels.
But there have been objections from conservation groups and others about the impact on nature reserves.
The Welsh Government has said it is still hoping to have a solution in place by 2021.