Wales Bill not stride forward on power - Jenny Randerson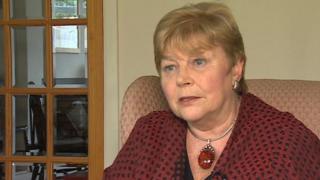 Moves to bring more powers to the assembly are a "shuffle forward" not a "big stride", ex-Wales Office Minister Baroness Jenny Randerson has said.
The Wales Bill, being debated in the House of Lords on Monday, was revised earlier this year amid concern it could dilute the power of AMs to make laws.
Last week, a cross-party group of AMs said the bill remained over-complicated.
But the UK government said the bill would secure "stronger" devolution.
The Liberal Democrat peer, also previously a Welsh Government minister, told BBC Wales it was "not a big stride forward as we hoped but it is a shuffle forward".
Baroness Randerson, part of the UK coalition government that introduced the Wales Bill after the so-called "St David's Day agreement" said: "The Wales Bill was started during the pro-devolution coalition government in 2015 which I was part of.
"We now have a centralising Theresa May government and the long list of exceptions [powers that will not be devolved] will mean we still have a complex settlement."
Currently, the areas that AMs can make laws on are defined in legislation.
But under the planned system, the areas that will remain in Westminster's hands will be set out in a list of reserved powers, with AMs being told what they cannot legislate on rather than what they can.
It would also give the assembly new powers over elections, energy and transport, as well as allowing the institution to change its name.
Following criticism, the UK government announced it would shorten the original draft list of reserved powers.
It had promised to change legislative tests, hurdles that AMs must overcome in order to make law.
'Landmark'
Last week, AMs on the assembly's constitutional and legislative affairs committee said the changes had not gone far enough and could still result in a "roll-back".
They also said that even though the reservation list had been shortened, in many cases powers had simply been lumped into one category instead.
Their report said the law remained complex and unclear - and called into question how long it would be before another devolution law was needed.
This was made worse, it argued, by the failure to provide a distinct or separate jurisdiction for law in Wales.
Wales currently shares a legal jurisdiction with England.
Welsh Conservative leader Andrew RT Davies defended the bill, saying it was a "landmark piece of legislation" offering "greater clarity and accountability than ever before in the devolved era".
A Wales Office spokeswoman said: "The Wales Bill will secure a stronger, clearer and fairer devolution and is based on the cross-party St David's Day agreement".