UK government in 'blind panic' over Brexit, says Carwyn Jones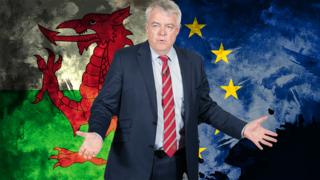 Some sections of the UK government are in "blind panic" over how to approach negotiations to leave the EU, First Minister Carwyn Jones has claimed.
He told BBC Wales ministers should explain to the British people what their "red lines" were in the talks.
The Welsh Labour leader also repeated his call for any deal to be ratified by all four UK parliaments.
In response the Welsh Conservatives accused Mr Jones of "calamitous flip-flopping" on freedom of movement.
Prime Minister Theresa May told the party's annual conference that her government would begin the formal Brexit negotiation process, triggering Article 50 of the Lisbon Treaty, by the end of March 2017.
Speaking to the Wales Report with Huw Edwards on Wednesday night, the first minister said the UK government "needs to get its act together and explain to the people of Britain exactly what the red lines are in the negotiation, and explain what it sees as the best outcome for Britain, we've not had that so far".
"We're seeing blind panic taking place in some sections of the UK government," he added.
He said it was right for the UK government to conduct the negotiations with the EU as it was "in the driving seat", but insisted any deal must be ratified by all four UK parliaments.
"In all seriousness the UK government surely can't be thinking that it would want to have an agreement that was opposed by Scotland, Wales and of course Northern Ireland," he said.
Mrs May has said she wants to listen to the Welsh Government's views on Brexit to ensure it is "fully engaged" as Britain prepares to leave the European Union.
'Doom-mongering'
A spokesman for the Welsh Conservatives said: "This is really rich stuff coming from the First Minister, whose own government's reaction to Brexit has rollercoastered from doom-mongering and denial to dithering and confusion.
"This is best evidenced in his calamitous flip-flopping over his position on freedom of movement, when he'd like to see article 50 triggered, and whether or not he'd like Wales to have a seat at the Brexit negotiating table.
"As we prepare for our formal departure from the EU, Carwyn Jones would do well to get on with the job of helping to secure the best deal for Wales rather than the arm-chair politicking he seems to favour so well."
On Monday, Brexit minister and Clwyd West Tory David said the talks would be complex and the negotiating position would develop.