UKIP to boycott 'time-wasting' Welsh Government debate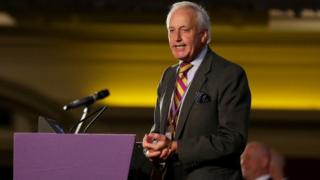 UKIP's Welsh leader Neil Hamilton has said his group will boycott a government debate on its legislative programme.
Assembly members will take part in a debate on Tuesday on Welsh Labour's plans for legislation this year and its five-year programme for government.
Mr Hamilton said the Senedd event was a "time-wasting irrelevance" and the matter had already been discussed.
Presiding Officer Elin Jones said the assembly was obliged to hold a vote.
"UKIP is going to boycott that debate," said Mr Hamilton.
"It's a time-wasting irrelevance in this assembly and our time is better spent dealing with out constituents and doing other things."
He raised the issue in business questions, asking: "Why are we having this pointless debate? We've already had it twice before."
Presiding Officer Elin Jones said the opportunity to vote on the legislative programme was obligatory under standing orders - the assembly's rules.
She insisted it was not an "abuse" of the assembly, as Mr Hamilton had suggested.
Labour AM Rhianon Passmore criticised the UKIP stance, saying she was "sorry if they are bored" by a matter of "considerable importance to the people of Wales".
"No sooner they are elected they are not showing up for debates and their defensive repetition is ridiculous," she said.