Welsh Assembly election spending tops £1m in 2016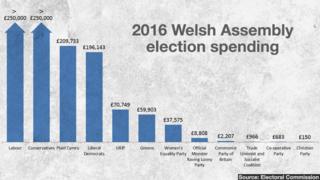 More than £1m was spent by political parties fighting the Welsh Assembly election, figures published by the Electoral Commission have shown.
Labour and the Conservatives both spent more than £250,000 and have until November to submit full details.
Of the rest, Plaid Cymru and the Liberal Democrats were the biggest spenders, with £209,733 and £196,143.
UKIP - which spent £70,749 and won seven seats - had the lowest cost per AM of the parties declared so far.
Political commentator Gareth Hughes said: "With minimum expenditure, UKIP appear to have captured much of the south Wales valleys vote - traditionally the province of Labour - at much less cost."
The Greens (£59,903) and the Women's Equality Party (£37,575) were the next biggest spenders but neither party won any Senedd seats.
The highest spending non-party organisations were the anti-racist group Hope Not Hate with £17,151 and public services union Unison, which spent £6.644.
Total spending by political parties for the 2011 assembly election campaign was £869,546, when the Conservatives were the top spenders with £283,269, Plaid Cymru second with £173,139 and Labour third on £153,009.
In 2007 total spending had been higher at £1.23m, up from just over £780,000 in 2003.