Welsh Labour to be represented on NEC by Alun Davies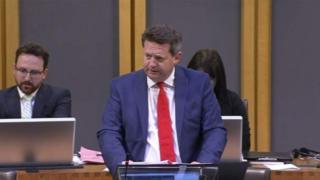 First Minister Carwyn Jones has named Alun Davies as Welsh Labour's representative on the party's ruling national executive committee (NEC).
Extra posts for Scotland and Wales were approved by delegates at the Labour conference on Tuesday.
Mr Davies, the Minister for Lifelong Learning, has been critical of Jeremy Corbyn's leadership of the party.
But one Welsh supporter of Mr Corbyn said the appointment of Mr Davies to the post was "provocative".
The new NEC seats were among a package of reforms which also gave the Scottish and Welsh parties power over Westminster candidate selection, disciplinary matters, and the election of their respective leaders.
The Blaenau Gwent AM told Wales Online before Mr Corbyn's leadership victory in 2015 that he believed it would be "an absolute electoral disaster for Labour in Wales as much as elsewhere".
Commenting on his appointment, Mr Davies, the Minister for Lifelong Learning in the Welsh Government, said: "I am delighted to have been given the opportunity to take up this important role.
"I will use my place on Labour's National Executive Committee to be a strong voice for Wales' interests and to work with colleagues across the wider UK Labour movement."
Critical
The Blaenau Gwent AM served in Carwyn Jones's cabinet as natural resources minister from March 2013 to July 2014.
He was sacked for pressurising civil servants to give him private information on AMs from rival parties, but returned to government after the assembly election in May.
On Wednesday Mr Jones said Mr Davies "will be a strong voice for Wales".
Darren Williams, a Cardiff councillor who also sits on the NEC, voted against the plan to let the first minister appoint a representative from Labour's assembly group.
"It seems quite provocative for Carwyn to send to the NEC someone who has been so stridently critical of the party leader," said Mr Williams.
"I am also unclear as to how the Assembly Labour Group will be able to spare Alun Davies to attend NEC meetings in London on several Tuesdays over the next year, when the Assembly will be meeting in plenary session
Scottish Labour leader Kezia Dugdale said she would take up the NEC seat for Scotland herself.