'Unease' fears flagged by US Ambassador Matthew Barzun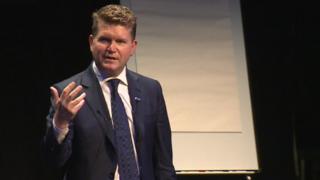 There is "increasing distrust" in democratic debate on both sides of the Atlantic, says America's UK ambassador.
The comments by Matthew Barzun came as he addressed sixth-form and university students in north Wales.
It follows the Brexit vote in the UK and the ongoing US presidential race, which witnessed the first head-to-head TV debate on Monday.
Mr Barzun told the audience at Bangor University that there needs to be more focus on "building bridges".
"I think there is something going on," he said at the university's aptly named Pontio centre - which means 'to bridge'.
"I feel an unease when I go home. People seem to be talking at each other and talking over each other.
"There is a growing gulf and I think we need to talk about that."
The ambassador said: "We need to build bridges - not walls. Building bridges is easy to say - but it is hard to do."
Brexit views
The visit to north Wales saw Mr Barzun make his 154th visit to a school sixth-form, when he stopped at Ysgol David Hughes at Menai Bridge in Anglesey as part of a personal outreach project he instigated when he took up his post in 2013.
While he refused to be drawn into a debate on the US election by students due to his position as a diplomat, he did talk about US-UK bonds following the Brexit referendum.
The ambassador said he believed the so-called "special relationship" between Wales, the UK and the United States remained "unbreakable" - regardless of June's vote for Britain to leave the European Union.
"Think about the commercial, historical and emotional ties between the two countries. Those will withstand anything," he stated.
"So, really, the only thing that has changed now in our view is we we want a strong UK and a strong EU."
Mr Barzun also said September's visit to the United States by First Minister Carwyn Jones demonstrated that Wales was open for business - and that message was getting through.
"His recent trip, I think, demonstrated the partnerships that already exist and making sure that we don't get complacent," he told BBC Wales.