Corbyn on Wales, Brexit red lines and Labour in power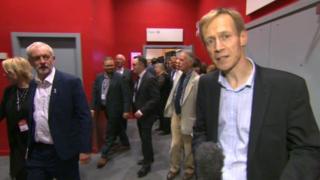 Greetings from the Labour conference in Liverpool, where Jeremy Corbyn has spoken at "Welsh night" on the conference fringe.
The day after he was re-elected, the Labour leader talked of learning from his party's record in Wales, where it has been in government for all 17 years since devolution.
The head of that government, Carwyn Jones, thanked Mr Corbyn for his speech, although one MP suggested the body language between the two men looked rather awkward.
They are at odds over an attempt by Corbyn supporters to delay giving Mr Jones the right to nominate a member of the party's national executive committee. The row is effectively a power struggle - some close to the leadership believe any Welsh seat should be elected by the whole membership who might be more likely to choose a Corbyn ally.
The NEC rejected an attempt to "unpick" the reform on Monday morning and delegates are due to vote on Tuesday on the plan, which is part of a move to give the Welsh party greater autonomy.
But I digress. Mr Corbyn told delegates at Welsh night: "I want us to be able to say, as we can in all truth and honesty, that a Labour government in Wales makes a very big difference," he said.
Mr Corbyn highlighted free prescriptions, free school breakfasts, the steel industry and homelessness. On housing, he said he "absolutely welcomed" allowing councils to suspend the right to buy.
'Brexit'
He criticised the increase in racist attacks since the Brexit referendum vote and said communities must not be allowed to descend into "an orgy of hate of each other".
He said if Wales and other parts of the UK lost EU funding "then we have a very serious problem". Labour has announced plans to make up that shortfall "to the 2020s and beyond" - paid for by the "net savings" of Brexit.
He told delegates: "The EU referendum was an affair which I guess most people are not happy about for very obvious reasons in that we voted to leave when we wanted to remain.
"The problem then is to recognise that result but also to recognise that in the Brexit negotiations there are lines that we draw - lines that we draw on access to European markets for industries in Britain, lines that we draw on maternity leave, paternity leave, TUPE [employee rights] negotiations, all those issues are red lines as are environmental protection, consumer protection issues."
Mr Corbyn praised Shadow Welsh Secretary Paul Flynn and his predecessor Nia Griffith.
He didn't mention explicitly the leadership election or his challenger Owen Smith.