Labour's Nia Griffith 'will serve under Jeremy Corbyn'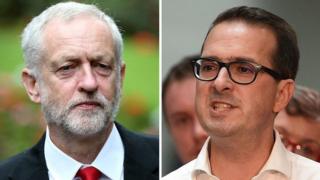 A senior Welsh Labour MP has said she would be willing to serve under Jeremy Corbyn again, three months after quitting the shadow cabinet.
Nia Griffith resigned as shadow Welsh Secretary in June, claiming Mr Corbyn had "lost the confidence of the party".
The Llanelli MP has now told the Newyddion 9 programme she would take a frontbench post if Mr Corbyn was re-elected leader.
The leadership result will be announced on Saturday.
Ms Griffith said: "I think it is very important that people come together.
"In that context I'm willing to serve if I'm part of a team that reflects every wing of the party."
Swansea East AM Mike Hedges, who is a supporter of Mr Corbyn, said he expected a victory for him.
He said Welsh Labour MPs should "take heed" of proposed parliamentary boundary changes, where some seats could be merged, because some MPs who have attacked Mr Corbyn could lose out.
He added: "It's crucial that MPs pull together so that the party is united not just for the next UK general election but for next year's council elections."
Jo Stevens, a member of Mr Corbyn's frontbench but a supporter of his leadership rival Owen Smith, said the Labour leader needed to make compromises to the rest of the party if he wins the contest.
The Cardiff Central MP added all party members had to be honest with each other and share the responsibility of building up relations that have broken down between some MPs and supporters of Mr Corbyn.
"Politics is not easy," she said.
"We have to be grown up about it, have some tough love and make sure we do a better job in the next 12 months than in the past 12 months."