Kirsty Williams: No grammar schools 'on my watch'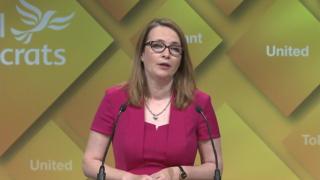 Greetings from Brighton, where the Liberal Democrat conference certainly looks and feels smaller.
The Lib Dems say they now have more members than they have had for more than a decade but there are certainly fewer hangers-on and corporate exhibitors here than when the Lib Dems were in government at Westminster.
There is, of course, one Liberal Democrat still in government. Welsh Education Secretary Kirsty Williams is, in a sense, the most powerful Lib Dem in Britain.
She gave her speech to delegates on Sunday afternoon, announcing plans to increase a grant paid to schools for teaching three and four-year-olds from poorer backgrounds.
She also confirmed her opposition to grammar schools in Wales, telling delegates there would be none "on my watch" in Wales.
Ms Williams said the Conservatives were ignoring international evidence by pressing ahead in England with plans to expand grammar schools.
She told delegates in Brighton that selective schools gave the majority of pupils a second-class education and excluded children from poorer backgrounds.
The Brecon and Radnorshire AM attended the private St Michael's School in Llanelli but rejected any suggestion she wanted to deny the opportunities she enjoyed to today's children.
'Choices'
She told BBC Wales: "Let's be absolutely clear. The choices that my parents made for me when I was nine years old were not ones that I could question.
"What would be more important and relevant would be to ask me about the choices I've made for my own children who attend their local comprehensive schools. It is clear to me that if you look at the international evidence and research done here at home that selective education is not the key thing for a successful education system."
The former Welsh Lib Dem leader added: "International evidence shows the best and highest-performing education systems across the world do not select their children. We know it's bad news especially for poorer pupils.
"The OECD when it came to Wales to report on our education system had many, many critical things to say about the state of our education system, many things that we needed to change but the number one thing that they praised was the fact we have a comprehensive system in Wales and we are dedicated to that."