Nathan Gill: UKIP must unite under Diane James or fail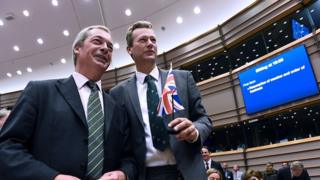 UKIP members must unite behind their new UK leader or the party will fail, the party's leader in Wales has said.
Nathan Gill conceded there was "turmoil" within the Welsh party as he addressed the conference in Bournemouth on Saturday.
He was given Assembly leader Neil Hamilton's slot in a late change to the programme after Diane James was elected as the new leader.
Mr Hamilton described his speech as a "backwards ramble down memory lane."
It is understood Mrs James, who was elected as party leader on Friday replacing Nigel Farage, sanctioned the change in conference agenda.
Mr Gill, who sits as a UKIP MEP and an independent AM in the Senedd, is one of her key supporters in the party.
He told BBC Wales he thought the move was a clear message that everyone needed to get behind Mrs James.
Mr Gill, who was appointed as leader in Wales by Mr Farage, said Mr Hamilton obviously felt "slighted" but that was not helping the party.
He said he thought a few people would now be questioning their positions within the party and that if people disagreed with the direction Mrs James was taking the party, they could leave.
A rift emerged between the two men when Mr Hamilton was chosen by a majority of UKIP's seven AMs to lead them in the Senedd following the election in May.
Mr Hamilton described the MEP's speech as a "lost opportunity".
He said he would have used his spot to show what the Assembly group were doing to "put UKIP on the map in Wales".
Following the election of Mrs James as party leader, Mr Hamilton said he hoped her leadership would mean an end to factionalism within the party.
Mr Hamilton said he would support Mrs James, despite having voted for runner-up Lisa Duffy.