BBC accused of inbuilt bias by MP David Davies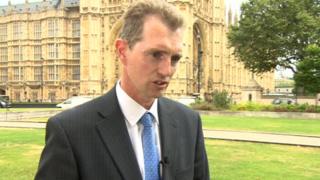 A Welsh MP has accused the BBC of an inbuilt bias which needed addressing.
Monmouth Conservative David Davies said its staff appeared to have a "certain world view" which was left of centre.
He told MPs there was an anti-Brexit tone to news coverage following the referendum, which he called "an absolute disgrace".
However, he praised the BBC's contribution to the Welsh language, a tribute echoed by Culture Minister Matthew Hancock.
Leading a Westminster Hall debate on Wednesday, Mr Davies said: "Unless the BBC is able to deal with the bias that many people have complained about then it's going to be harder and harder for them to justify the licence fee, which is effectively a tax."
He added: "I have been in many BBC studios and canteens and I've yet to see anyone sitting there reading a copy of the Daily Express or the Daily Mail, loudly complaining about immigration, Brussels, or suggesting that claims about climate change are somewhat over-egged."
Hate crimes
Mr Davies claimed that while right-of-centre pressure groups were described as such on BBC output, those on the left were not.
While he thought the European referendum campaign was covered in a relatively fair fashion, he said what had taken place afterwards was "an absolute disgrace".
He claimed that BBC website headlines suggested that people who voted for Brexit were in some way responsible for hate crimes.
Culture Minister Matthew Hancock said it was a timely debate as the new BBC charter was being published on Thursday.
Mr Hancock said the BBC was at the heart of British culture, adding: "I congratulate the BBC in the work that it does on supporting and sustaining the Welsh language."
He said that impartiality and accuracy was central to the BBC's role, and that it was important that the BBC had a diversity of people and opinions.