North Wales 'open for business' with £16m training scheme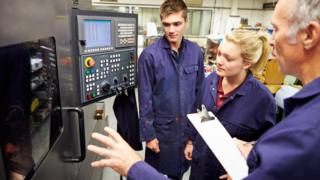 Skills training has a vital role in north Wales' economy, First Minister Carwyn Jones has said, before launching a £16m scheme on Thursday.
Skills for Employers and Employees (SEE) aims to help 500 firms and 7,000 people in the region over three years.
Mr Jones said it would be key to plans for the Wylfa Newydd nuclear power station and Menai Science Park.
He said the scheme, to be launched at Magellan Aerospace in Wrexham, showed north Wales was "open for business".
Led by Coleg Cambria in Wrexham and offering subsidies for training of up to 70%, SEE would also help business that had set up in north Wales' enterprise zones to grow, Mr Jones said.
"With £10m of EU funding this scheme is a positive example of how we are continuing to maximise the use of our existing funds to ensure Wales gets the benefit of this important source of funding," he said.
"It is our priority to ensure Wales does not lose a penny of the EU funds we currently receive, following the UK's withdrawal from the European Union.
"We are in on-going discussions with the UK government about guaranteeing funds for projects agreed after the Autumn Statement," Mr Jones added.
Also in Wrexham, Mr Jones will host his first "Carwyn Connect" event since the May's assembly election on Thursday evening.
People are invited to put their questions directly to the first minister at Glyndwr University.
The Welsh Conservatives have welcomed the launch of the skills training scheme.
Mohammad Asghar, the party's skills spokesman, said it was vital to ensure that local workers had the skills to benefit from major economic projects like the planned Wylfa Newydd.
"This scheme will be a welcome boost to north Wales, but we need to see better outcomes from EU funding and any funding streams which follow once we have left the European Union," he added.