UKIP AM Caroline Jones 'ready to replace Gill as MEP'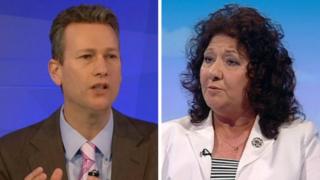 A UKIP AM has said she would stand down from the Senedd to replace Nathan Gill as a Welsh Euro-MP.
Caroline Jones was one of four UKIP candidates for Wales on the ballot paper at the 2014 European election.
Mr Gill has sparked a party row by refusing to stand down as an MEP after being elected to the assembly, where he now sits as an independent.
He accused Mrs Jones of a "dramatic change of heart", claiming that UKIP's new leader would ultimately decide.
Mr Gill has previously said he would not step down as an MEP because there was not a UKIP candidate available to take over.
The three other people on UKIP's list for Wales at the 2014 election were James Cole - who recently rejoined UKIP after standing for the Abolish The Assembly party in May - Mrs Jones, and fellow AM David Rowlands.
Mr Gill has suggested Mr Cole is unsuitable and that Mrs Jones and Mr Rowlands would not want to leave the Senedd.
But Mrs Jones - a regional AM for South Wales West - denied his claim, saying: "If the position became available I would step down as an AM and Martyn Ford would come in.
"As much as I like the assembly - I love the work I'm doing and the portfolio - if I were to go to Brussels then that would free up another position for Martyn Ford who's next on the list for the assembly."
Mr Gill - who lost a vote to lead UKIP in the assembly to Neil Hamilton - left the group during the summer recess to sit as an independent AM, blaming infighting.
He remains a UKIP member and MEP for Wales.
"This is a rather dramatic change of heart from Caroline who steadfastly refused to take the role in Brussels when she realised the tenure would be curtailed," he said.
"And it's the very first I've heard about it, via a journalist.
"I've had no discussion with Caroline, nor has the proposal been made to the UKIP MEP group in Brussels.
"So I have to wonder what, or who, has prompted her to suddenly make this remark straight to the press."
Referring to the election to replace Nigel Farage as UKIP leader, Mr Gill added: "We have a new leader on Friday who will oversee such decision making, and I no longer sit with the UKIP group on the assembly, so this currently is all rather a moot point."
In July, Mrs Jones told BBC Radio Wales she was "not interested" in leaving the assembly for the European Parliament.
"Since becoming an AM I've thrown myself totally into what I'm elected to do," she told the station.