'We were all Iris's children' - peer recalls teacher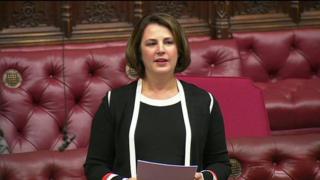 As MPs ponder a sharp cut in their number, Wales's newest peer has made her maiden speech in the House of Lords - with a tribute to her old comprehensive schoolteacher.
Baroness Finn of Swansea, a former special adviser in David Cameron's government, said she was both "honoured and amazed" to be in the Lords.
"I am amazed because my story starts far from this House," she said. "My father's family defected from communist Czechoslovakia. My mother brought us up in her native Swansea, a wonderful city whose name I now proudly bear."
She then shared memories of her schooldays at Olchfa Comprehensive School: "​My journey owes everything to education. Low academic attainment and low aspiration were issues raised in a recent report on why so few Welsh youngsters were applying to Oxford and Cambridge universities. But in the late 1970s and early 1980s, my Swansea comprehensive bucked this trend and got 10 to 15 pupils a year into Oxbridge.
"Many, including the economist Sir Andrew Dilnot and the writer Russell T Davies, reached the top of their professions. These results were down to some outstanding teachers; and one in particular, Iris Williams, made it her job to get as many of us as possible to apply to Oxbridge from a part of Swansea where there was no such tradition."
My colleague Gareth Jones has written about his own time at Olchfa.
'Opportunities'
Lady Finn added: "We were all Iris's children and owe her a great debt. As one former pupil recalls, 'Big hair, big character. She stood out and stood up for academic excellence'. Iris believed that her 'children' were as good as anyone else and raised our level of aspiration and taught us to value education as a means of opening up opportunities and freedoms.
"She got to know admissions tutors, introduced lunch-time lectures, matched candidates to colleges and personally drove pupils to visit them. She mentored us and broke down the obstacles. Life chances are not about levelling down but creating the spaces and removing the barriers. We did not get into the best universities because they lowered their high standards to meet arbitrary quotas. We knew that we had passed on our merits."
Lady Finn also used her maiden speech to support the proposed Swansea tidal lagoon, currently under review by the UK government. "Using ground-breaking technology, this innovative project will provide sustainable energy and bring much-needed investment and regeneration to this part of Wales," she said.
Lady Finn isn't the only former Olchfa pupil in the news today.