Back to the future: PPS role for mid Wales MP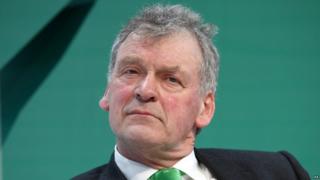 At 72, he's almost old enough to join Jeremy Corbyn's shadow cabinet. But Montgomeryshire Tory MP Glyn Davies is about to put his foot on the first rung of the ministerial ladder, rejoining the government as a parliamentary private secretary.
He'll be the "parliamentary eyes and ears" of Welsh Secretary Alun Cairns, a role Mr Davies fulfilled under his predecessor-but-two Cheryl Gillan. His role is confirmed as MPs return to Westminster after their summer break.
"I'm very pleased," he told me. "I have worked with Alun Cairns for 15 years as a very close colleague. The three ministers [Mr Cairns, Guto Bebb and Lord Bourne] are all people I have worked with and I'm looking forward to making a contribution to Welsh politics."
'Promotion'
As one of the more independent-minded backbenchers, will the promotion cramp his style? Will he have to toe the government line? Has he been gagged?
He says not and hopes, unusually, to remain a member of the Welsh affairs committee scrutinising his own department. It's not clear how that might work if the committee found itself grilling his boss.
An early test for his independence could come with the imminent publication of proposed boundary changes for parliamentary constituencies. Mr Davies is no fan, to put it mildly, of any idea of dividing Montgomeryshire up to cut MP numbers, although the key vote may not happen until 2018.
He succeeds David Morris, who was transferred to the Scotland Office in July.