Plans move ahead for A487 Caernarfon-Bontnewydd bypass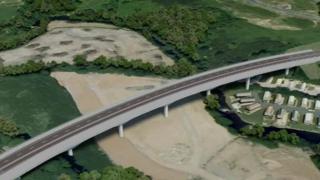 Plans are moving forward for a £90m road to relieve congestion between Bontnewydd and Caernarfon in Gwynedd.
The Welsh Government has published draft orders for the six-mile (10km) A487 bypass, allowing individuals and organisations the chance to submit objections to the route.
Construction could begin in autumn 2017 following a possible public inquiry.
Work on the bypass had previously been facing delays because of talks over wildlife concerns.
There have been concerns that the area is a migration route for animals such as otters and bats.
Additional surveys on environmental mitigation measures were undertaken during the summer.
Sian Gwenllian, Plaid Cymru AM for Arfon, said the bypass had been first discussed in the 1990s.
"We are delighted that the draft orders have been published and it looks as if things are moving ahead. There was a slight delay that was disappointing," he said.
She said she was seeking further information on how construction work will "trickle down" to the surrounding area.
The Welsh Government website says 75% of the cost of the scheme will be spent with local Welsh suppliers.
Some 22 structures, including seven bridges, are planned for the project, which is estimated to cost £90.9m before VAT.
It would have two lanes in one direction and one lane in the opposite direction.
A public inquiry may be held in the winter/spring of 2017, with construction beginning in the autumn of that year.
Under the current timetable the road could be opened by late 2019.
Orders are used by ministers to gain the legal authority to build new roads.