Young People's Laureate refused Labour leadership vote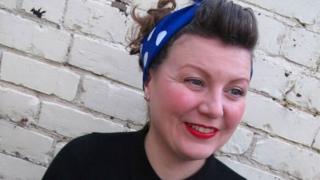 The Young People's Laureate for Wales has described the Labour Party as "feeble" after her application to join as a supporter was rejected.
Sophie McKeand was told her application had been turned down because she had tweeted support for the Green Party.
As part of the application process applicants must confirm they are "not a supporter of any organisation opposed" to Labour.
Ms McKeand wanted to vote for Jeremy Corbyn in the leadership contest.
She had tried to obtain a ballot for the leadership election by paying £25 to be a "registered supporter".
Ms McKeand, a poet from Wrexham, said she had previously voted for Plaid Cymru and chooses parties which support her "socialist agenda".
She said: "If I agree with Green policies, why can't I agree with Labour too?
"If I want to vote Plaid one year I will, if I want to vote for Jeremy Corbyn I can. I want to reflect my socialist agenda.
"I want to see proper socialism so I'll vote for a variety of parties - but always on the left."
"These things shouldn't be mutually exclusive," she added.
In the letter dated 26 August, the party's general secretary Iain McNicol said: "Thank you for your recent application to become a registered supporter.
"As part of the process to sign up as a registered supporter all applicants are asked to confirm the following statement; I support the aims and values of the Labour Party and I am not a supporter of any organisation opposed to it.
"A panel of the National Executive Committee (NEC) has considered your application, and has decided to reject it on the grounds that you tweeted support of the Green party on 8 May 2015."
Ms McKeand said she was accepted as a £3 registered supporter last summer, despite the tweet in question pre-dating that application.
She plans to appeal against the decision.
A Labour Party spokesman said: "We don't comment on NEC decisions regarding individual members."