Movement on free movement?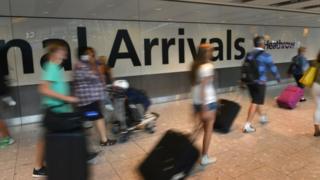 So did those who voted to leave the EU do so on the basis that the free movement of labour would come to an end?
It's a question which is at the heart of the latest row more than two months after the vote.
Two leading Conservative Brexiteers, David Davies and Andrew Davies, clearly believe that they did not.
For them, some degree of free movement would be acceptable, under certain rules.
David Davies believes EU migrants should have no access to council houses and benefits, and Andrew Davies that there should be an overall cap.
The argument is that this deals with the fundamental decision of most of the voters who want a degree of control introduced to immigration levels.
The man who ran Labour's remain campaign in Wales, Peter Hain, has given an incredulous response, calling these more nuanced views "shameless."
Neither side will back down. Many leave campaigners I've spoken to say most people simply want immigration brought under control, and the only way to do that effectively is to come out of the EU.
They say it was a central part of the hugely powerful "take back control" message which was so successful in cutting through with the public.
The remain side insist that getting rid of free movement was not only key to the leave side, but actively encouraged on the doorstep.
Its claim is that free movement is what it says on the tin, and to have free movement means inevitably giving up complete control of the borders, which it says was promised by the leave side in the campaign.
Two months after the EU referendum result, and there's still plenty to argue over.
And this will continue because the free movement of labour will be tied up with whether the UK is able to sell goods and services to the EU tariff-free in the single market.
Expect this one to run and run.