Goldie Lookin' Chain councillor quits Labour group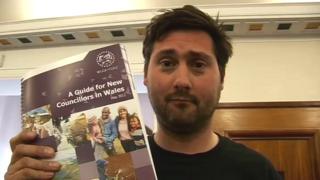 A member of the rap group Goldie Lookin' Chain who was elected as a Labour councillor in Newport has left the party's group.
Rhys Hutchings has represented St Julian's since 2012 when Labour re-took control from a Tory/Lib Dem coalition.
He would not be drawn on his reasons for leaving the Labour group or whether he had left the party altogether.
"I think it would be best for me right now to just continue as an independent councillor," he said.
Mr Hutchings is the third councillor to have left Newport's ruling Labour group in 2016 after Chris Evans and Paul Hannon were suspended.
Labour still has a majority on the authority with 34 of its 50 seats.
Mr Hutchings formed Goldie Lookin' Chain (GLC) with a group of friends in 2000.
Known for their tongue-in-cheek take on life in Newport and south Wales, they had a Top Three hit with Guns Don't Kill People, Rappers Do in 2004.
When elected in 2012, Mr Hutchings told BBC Wales he became interested in the possibility of being a councillor while helping a former Newport mayor at fundraising events.
"It just opened my eyes to the fact that we can make a difference, people can run for council, get in and make a difference," he said at the time.
Mr Hutchings' departure from party politics came as former Big Brother contestant Glyn Wise revealed he was leaving Plaid Cymru.
Mr Wise stood for Plaid in Cardiff Central in May's assembly election, coming fourth with 1,951 votes.
He tweeted: "Decided to leave Plaid Cymru today as we don't share the same vision / direction for our country any more."