Plaid AM accuses presiding officer of failing to stop 'insults'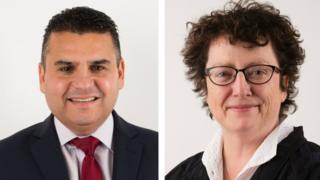 A Plaid Cymru AM has accused the assembly's presiding officer of failing to stop First Minister Carwyn Jones from "sneering and insulting him" in the Senedd chamber.
Neil McEvoy made the claim in a letter to Elin Jones days after she warned him to stop breaking the rules on asking questions in the assembly.
The letter, sent in July, was released under the Freedom of Information Act.
The Assembly Commission declined to comment.
Since being elected in May, Mr McEvoy has repeatedly attempted to question Mr Jones on a range of issues, including lobbying in Cardiff Bay and on a long-running dispute over planning dating back to 2012.
Mr Jones has said the Plaid AM was "living in a land of fantasy".
On 8 July, the South Wales Central Plaid AM wrote to Ms Jones complaining that a question he wanted to put to Mr Jones during First Minister's Questions - "does cash for access to Welsh ministers exist in Cardiff Bay" - was ruled out of order.
Saying the question he was now going to ask was "very bland", he wrote: "If other First Minister Question Times are anything to go by, you will allow him to sneer, insult and not address my supplementary question in any way, shape or form.
"Give you are new to the role of presiding officer, I ask that you reflect on how to stop this happening."
In the Senedd on 12 July, Mr McEvoy went on to accuse Mr Jones of not believing "in open government" because of the lack of a lobbying register or lobbying regulations.
Mr Jones said he had "nothing" to hide. "Commercial lobbyists don't have access to Welsh ministers," he said.
'Utmost respect'
The email to Ms Jones was sent three days after she warned Mr McEvoy over three separate contributions he made in the assembly.
This included First Minister's Questions on 5 July, when the Plaid AM complained about being "heckled" by Mr Jones and being called a "coward".
"When you are called to ask a supplementary question, you must do so," she said in a letter to Mr McEvoy - part of a string of correspondence between the two AMs that has been released by the assembly.
She told Mr McEvoy that "this behaviour must not continue" and that she would "impose sanctions if you continue to disregard these rules and procedures".
In response, Mr McEvoy told the presiding officer Mr Jones had "decided to indulge in personal abuse" - citing an exchange over the local development plan where the first minister said the Plaid AM "lives in a land of fantasy".
But he later told Ms Jones that he wanted to take up the offer of training on standards.
Mr McEvoy told BBC Wales he had the "utmost respect" for the presiding officer and added he would "continue to robustly challenge" Mr Jones.
A spokesman for the first minister said: "We note the response from the presiding officer which makes it clear how Neil McEvoy has consistently let himself down during exchanges in the assembly chamber.
"It is encouraging that he has decided to take up the offer of some training, and hopefully the use of the sanctions available to the presiding officer won't be necessary."