UKIP's survival questioned after 'vicious' infighting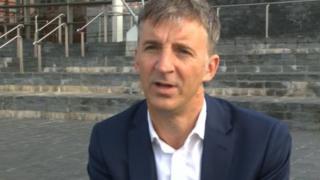 The future of UKIP is under threat unless members quickly stop "fighting like cats and dogs in public", a political commentator has said.
Prof Richard Wyn Jones said: "It is very hard to think how UKIP can survive in this form for very much longer."
The party's Welsh leader Nathan Gill left the Welsh assembly group to sit as an independent over a row over him also keeping his MEP role.
North Wales AM Michelle Brown said it is "a moot point" if he remains leader.
"After the triumph (of the EU referendum), they are now fighting like cats and dogs in public with each other," Prof Jones told BBC Radio Wales' Sunday Supplement programme.
"The viciousness of the press releases from both sides is something to behold. It makes what's going on in Labour pale."
The party's National Executive Committee had asked Mr Gill to stand down from his MEP role after he was elected to the assembly in May, threatening to expel him from the party if he did not.
He has since quit the party's assembly group amid refuted allegations he was bullied by Neil Hamilton, who was chosen ahead of him to lead UKIP in the Senedd.
Meanwhile, on a UK level, a fraught leadership contest is taking place to replace Nigel Farage, with Steven Woolfe barred from standing.
'Personal divide'
Prof Jones said the problem is not "a genuine ideological divide", but "a personal divide" between Mr Gill and Mr Hamilton and supporters of Nigel Farage and the NEC.
He said: "All the infighting raises the wider questions of where are they going to go and what is the point of UKIP?
"Sooner or later, traditionally, divided parties lose support. It is very hard to think how UKIP can survive in this form for very much longer."
Despite Mr Gill claiming he is still leader of the party in Wales, Ms Brown said it is "a moot point".
She said he "misunderstands the situation", adding: "We don't have an overall leader and nobody to appoint a leader in Wales."
Asked about the future direction of the party, she said: "We still need to make sure Brexit is accomplished and Theresa May gets the UK out of Europe as soon as possible.
"Our purpose remains and the unifying factors remain."
On the same programme, the party's Sam Gould said when a new UK-wide leader is appointed, "we can move forward" and "mould behind them".