Council reserves rise despite cuts, Wales Audit Office says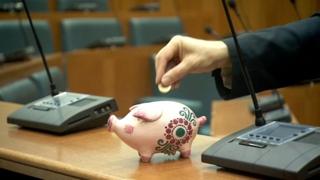 Welsh councils have boosted their financial reserves by hundreds of millions of pounds despite big cuts to their main source of income, according to the public spending watchdog.
Reserves rose by £244m to just over £1bn from 2009 to 2014, while councils' Welsh Government funding fell by £668m, a Wales Audit Office (WAO) report said.
Councils said the figures showed their successful long-term planning.
But the Welsh Government has previously questioned the size of some reserves.
Statistics published on Thursday showed the total reserves held by the 22 Welsh local authorities rose by nearly a third, from £780m in 2009 to £1.024bn in 2014.
The report said that while this showed "strong financial resilience", it warned: "Building up reserves with no clear purpose is not an effective use of resources."
However, the figures indicate that around 80% of the funds throughout the period were earmarked for specific projects.
'Greater consistency'
Flintshire council leader and Welsh Local Government Association finance spokesman Aaron Shotton said the report "recognises an improvement in financial planning at a time when funding for local councils in Wales has contracted by nearly a fifth over recent years".
"These reserves can only be spent once," he said, adding that they "directly reflect the success local authorities are having in planning beyond single-year budget horizons".
"Local councils must now continue to seek ever greater consistency in their approach," Mr Shotton added.
"We will continue to work with our members, finance professionals and the Welsh Government to improve and to deliver the reforms we so desperately need in how local councils are funded."
Conservative local government spokeswoman Janet Finch-Saunders accused Welsh Labour ministers of leaving councils in a "difficult financial position" but said the public could not be asked fund "huge reserves" indefinitely.
"When things are difficult financially, most families don't have the option of building up huge reserves of cash," she said.
"It's time for council leaders to consider paying some of that money back in the form of a council tax freeze."
In 2014, the then Public Services Minister Leighton Andrews asked why seven of the 22 local authorities were holding back up to 20% of their turnover as reserves when funding was being cut.
"Sometimes they are there against the arrival of a rainy day," he said at the time.
"I think the rainy day has been here now for a year or two," Mr Andrews added.