Teenage cancer patients are 'missing out' on support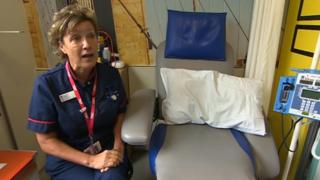 Young cancer patients could be missing out on support because government policy is not being followed, it has been claimed.
The Teenage Cancer Trust supports 120 youngsters a year in Cardiff.
But one of its nurses is worried a similar number are "suffering alone" as they are not being referred for emotional help.
The Welsh Government said it expects health boards to meet national standards on offering additional help.
At the University Hospital of Wales, Cardiff, patients at the teenage cancer unit receive additional psychological and emotional support alongside treatment.
There is also a special social space on the ward where they are able to mix with others in similar positions and gain the support of social workers.
'Patients suffering'
Mary Harness, senior nurse on the ward, who is part-funded by the Teenage Cancer Trust, believes many are missing out on this additional help.
"There are many patients out there in the community who could be referred to us who are suffering, who have rare forms of cancer," she said.
"They'll have nobody else they can talk to about their cancer. They'll be suffering alone with no peer support, no emotional support."
She said the situation is "complicated", saying all patients should be referred to a teenage cancer support organisation but "that unfortunately has been lost".
A Welsh Government spokesman said it expects all health boards to meet national standards for teenagers and young adults with cancer.
"Which means that they would either be treated by clinicians who are part of a teenage and young adult cancer team or an appropriate treatment plan should be developed in partnership with the teenager and young adult team," he said.
"We have not received any reports from the health service indicating there is a problem, but we will seek assurances that our rigorous standards are being met."