Deadline for Nathan Gill's UKIP 'double job' resignation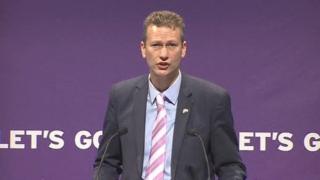 Sunday's deadline for UKIP Wales leader Nathan Gill to give up either being an MEP or an AM is expected to lapse without his resignation.
A source close to Mr Gill said he was not going to follow demands from the party's National Executive Committee (NEC) to give up one of the roles or face expulsion from the party.
Mr Gill has faced criticism for "double-jobbing" as an MEP and an AM.
A final decision on Mr Gill's fate is expected from an NEC meeting on Monday.
The source told BBC Wales: "He's not going to meet that deadline. He is not going to resign from anything."
UKIP assembly group leader Neil Hamilton and four other AMs recently called for Mr Gill to go as an AM if he will not stand down as an MEP. He said it was "physically impossible to combine the two" jobs.
But Mr Gill had called the NEC's decision "anti-democratic" and "baseless".
'Ideology'
UKIP is currently undergoing a leadership contest after Nigel Farage resigned from the role.
Mr Gill was campaign chairman for Steven Woolfe, an ally of Mr Farage who had intended to run in the UKIP leadership contest but did not get on to the ballot.
He had been viewed by some as the front-runner in the contest.
The source claimed the row over Mr Gill is "all part of the battle for the ideology of UKIP", which they said had seen Mr Woolfe excluded from the race.
Chris Smart, the acting chairman of UKIP in Wales, has said he believed Mr Gill has automatically been expelled as the deadline has passed.
He told BBC Radio Wales' Sunday Supplement programme: "On the 31 of July, the NEC resolved to expel Nathan Gill from the party membership, effective Sunday 7 August, unless he either resigns as an AM or as an MEP."
UKIP has been asked to clarify the situation.