UKIP's Nathan Gill gains backing over 'double job' row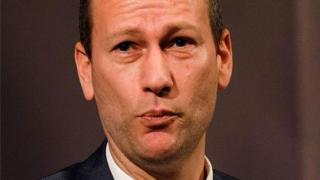 A group of UKIP branch chairs have written a letter to the party's ruling committee asking them to "retract their threat" to expel its Wales leader.
On Monday, UKIP's National Executive Committee (NEC) voted to remove Nathan Gill from the party unless he resigns from one of his two elected positions.
Five UKIP AMs also want him to quit as an AM if he will not resign as an MEP.
But the 12 signatories said Mr Gill "remains extremely popular with a vast majority of the UKIP Wales membership".
Mr Gill has called the decision by the NEC "anti-democratic" and "baseless", while he said some of his fellow party AMs were "disgracing UKIP in front of the media".
Agreeing with Mr Gill's position, the letter sent to the NEC said: "It is clear that there is no viable candidate to assume his role in Brussels were he to step down and it is only right that he continues to serve the voters as an MEP as well as lead the party in Wales.
'Beggars belief'
"To call on him to resign his seat on the Welsh Assembly, as the man who spearheaded the campaign, beggars belief."
Mr Gill has so far refused to step down from either of his roles despite being given an ultimatum by the NEC to do so by Sunday.
The NEC has also come under fire from UKIP leadership hopeful Steven Woolfe who was ruled "ineligible" to stand in the contest to replace Nigel Farage on Wednesday.
Mr Woolfe, who was seen as the frontrunner, called the NEC's treatment of Mr Gill over the past two weeks "totally unacceptable".
He added: "Nathan is a decent and honest man, who has been in the party longer than many NEC members.
"He, as the leader of UKIP in Wales, led the party to victories for seven Welsh assembly members in May.
"His dedication to the party knows no bounds. Wales voted to leave the EU and it deserves a Eurosceptic voice in Brussels to represent the people, as the renegotiation moves ahead.
"If I were on the ballot, I would have fought to reform the internal structure of UKIP including the NEC. UKIP must professionalise and it cannot do that with an unfit NEC."