Eisteddfod row after Neil Hamilton uses English at assembly event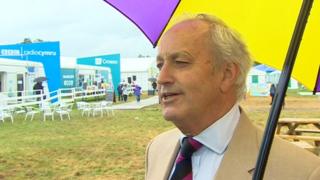 A row has erupted at the Eisteddfod after the National Assembly broke the "Welsh language rule" during an event.
At a panel held on Monday by the institution UKIP's assembly leader Neil Hamilton contributed in English.
Cymdeithas yr Iaith Gymraeg called on the Presiding Officer to ensure the situation "would not happen again".
Mr Hamilton said the rule should have exceptions. The assembly said it "genuinely believed" it was adhering to the event's Welsh language principle.
The discussion panel on the maes that prompted the row was held by the assembly's Culture Committee.
All the AMs present there were Welsh speakers, except for Mr Hamilton who is teaching himself Welsh.
The Eisteddfod rules declare that Welsh is the language of the festival.
Jamie Bevan, chairman of the Welsh language society Cymdeithas yr Iaith Gymraeg, said: "It's of grave concern that the rule has been broken.
"The presiding officer and the Eisteddfod should be clear about it when arranging events.
"We would like to receive assurance from the Presiding Officer that this will not happen again."
"I didn't know anything about this rule," Mr Hamilton told BBC Wales.
"I understand where the Cymdeithas yr Iaith are coming from on this because it is an iconic Welsh Language festival, and I don't think it should be diluted by English, generally speaking.
But asked if he was sorry for breaking the rule, he added: "I'm not sorry for it. Je ne regrette rien I suppose, because I didn't know about it and I think it would be absurd to apply it with no exceptions at all, especially for an assembly committee which is bilingual."
'Institutions accept these conditions'
A spokeswoman for the National Eisteddfod said: "The Welsh Assembly is aware of the language rule at the Eisteddfod and we have discussed the matter of the rule being broken in the meeting that was arranged by them yesterday.
"The condition on the registering form to hold an event in one of the two Societies tents declare that Welsh is the language of the Eisteddfod and societies and institutions accept these conditions when making a case to hold a session at the Eisteddfod."
An assembly spokesman said: "We genuinely believed that we were adhering to the principle that 'Welsh is the language of the Eisteddfod and the festival'."
He said translation facilities were available for all present and added: "We will discuss the matter further with Eisteddfod officials."