Geraint Talfan Davies: No emotional case made to remain in EU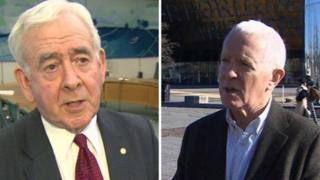 Two senior figures involved in the failed campaign to keep the UK in the EU have criticised the strategy of the bid to get people to vote Remain.
Geraint Talfan Davies, former chairman of the Wales Stronger In Europe, said an "emotional" case had not been made to stay in the EU in June's referendum.
Meanwhile, Plaid Cymru's Dafydd Wigley said Stronger In made the "wrong" assumption that the referendum would have turn-out like a general election.
He was a board member of the group.
Mr Talfan Davies, speaking to BBC Wales, said: "There wasn't enough in the [Remain] campaign to have an emotional impact."
"I think the Leave side managed to create an emotional charge.
"There wasn't anything in the Remain side that had the punch of a phrase like 'take back control'."
"If you have got communities that feel left behind you need to inspire them in some way," he said, adding that the financial arguments "didn't connect as people thought it could".
'Undermined the model'
Former Plaid leader Lord Wigley, who spoke after he delivered a lecture at the National Eisteddfod in Abergavenny, Monmouthshire, said Stronger In had "already adopted its strategy" when he joined the board, which he said had served an advisory role.
Plaid had backed a Remain vote in the June referendum and had worked with Stronger In, which was the official cross-party campaign in the pro-EU camp.
Lord Wigley said he argued "very strongly that there wasn't enough in the strategy to inspire people to go out and work" for a Remain vote.
"The strategy was based on the American concept of analysing who are the swing voters and concentrating entirely on those," he said.
"That assumed that there would be a similarity of turnout to those who vote in a general election.
"What we saw in many of the strong Brexitarians were people who never turn out at elections turning out this time to protest against the whole system.
"That undermined the model that Stronger In had developed."
'Held back'
Lord Wigley said that if the referendum was run again, Plaid Cymru should campaign alone.
"The problem was the referendum came straight after the assembly election," he said.
"All the political parties in Wales were tired, they had thrown everything they could into that."