UKIP MEP Nathan Gill told to quit as successor is 'ready'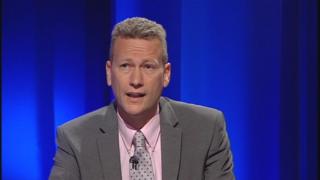 The chairman of UKIP Wales has said its leader Nathan Gill should step down as an MEP as a successor is now available.
Chris Smart said James Cole, who was number two on UKIP's Wales list at the 2014 European election and has rejoined the party, is ready to take over.
But Mr Gill said it would be "perverse" because Mr Cole stood for another party in May's assembly poll.
Mr Cole said he had made no moves to pursue the job but would serve as MEP if it was in the party's interests.
Mr Gill has been criticised for "double jobbing" - he previously promised to give up the MEP role if he was elected to the assembly.
But after becoming an AM he said there was no-one to succeed him as UKIP's Wales Euro-MP so he would continue doing both jobs, avoiding a European by-election.
If Mr Gill stepped down, the job would pass to Mr Cole, as he was the candidate listed second by the party at the 2014 European election.
He was previously ineligible to take over as he had left UKIP.
Numbers three and four on the 2014 list, Caroline Jones and Dave Rowlands, are now also AMs.
Mr Cole stood for the Abolish the Welsh Assembly Party at May's assembly election but then rejoined UKIP.
Mr Smart told BBC Wales: "Nathan Gill should step down as a successor is now available. Doing two jobs is not practical.
"We need all seven AMs to be effective and he can't be effective doing two jobs.
"The perception with the public is not good either. James is ready and able to do the job."
'Proxy war'
But Mr Gill said it was "highly unlikely" that Mr Cole would be "deemed eligible" to take over as an MEP.
"Mr Cole left the party in animosity and was publicly critical of its leadership before setting up his own party, which directly competed with UKIP in the Welsh Assembly elections, potentially costing UKIP three seats," Mr Gill said.
"It would be a perverse choice and it would be highly unlikely that anyone would deem him eligible to become UKIP's MEP for Wales."
Mr Cole said on Facebook that the job was not a "matter for me or anyone" but was up to UKIP's National Executive Committee.
He said he had been a "member for months" and had made "no moves towards this".
"I would take the job if in the interest of the party as a whole but Nathan has said that he can complete two jobs and is not planning to resign," he said.
On Sunday, Mr Gill said those within UKIP calling for him to stand down were doing so out of "malice".
It followed the leaking of a letter to BBC Wales in which UKIP chairman Steve Crowther demanded that Mr Gill should honour his commitment to stand down.
Mr Gill described the situation as "a proxy war" between the party's National Executive Committee (NEC) and loyalists of former leader Nigel Farage and said his take-home pay was now lower.
UKIP's Swansea branch voted unanimously on Wednesday night for a motion opposing Mr Gill "double jobbing".