UKIP's Neil Hamilton calls for Nathan Gill to sack aide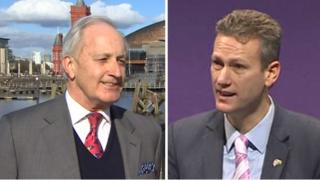 UKIP's assembly group leader Neil Hamilton has demanded that UKIP Wales leader Nathan Gill sack an assistant in a row over expenses.
Mr Hamilton said he was "outraged" by a tweet sent by Llyr Powell suggesting he was opposed to a proposal to pay some of the AM's accommodation costs.
He has demanded UKIP expels Mr Powell, named on the European Parliament website as an assistant to Mr Gill.
Mr Gill said it was "awful bullying behaviour".
There have been long-running tensions between Mr Hamilton and Mr Gill, coming to a head after the Welsh Assembly election in May, when Mr Hamilton won a vote of UKIP's seven AMs to lead them in the Senedd.
The latest row broke out after it emerged the assembly's independent remuneration board was looking at allowing AMs who live in England to claim accommodation expenses in Cardiff.
Mr Hamilton, who lives in Wiltshire and is the only AM affected, is unable to claim under existing rules.
In response to the story, Mr Powell tweeted that he had "just emailed my local AMs asking them to vote to protect taxpayers money."
Mr Hamilton, who represents Mid and West Wales, wrote in an email to Mr Gill seen by BBC Wales: "I am outraged that Llyr Powell has publicly implied that my reimbursement claims are a waste of taxpayers' money.
"Worse still, he has apparently incited our political enemies to oppose reimbursement of my costs and to make political capital out of the issue.
"Using Twitter to publicise his actions is wholly malicious and deliberately calculated to damage both me and UKIP."
'Gross misconduct'
Mr Hamilton added he was making a disciplinary complaint against Mr Powell, "seeking his expulsion from UKIP".
The former Conservative MP said he had no doubt that "in employment law" Mr Powell's behaviour "constitutes 'gross misconduct' and merits summary dismissal".
"As your employee, his public activities inevitably imply your approval in the absence of evidence to the contrary and I request that you dismiss him forthwith from your employment," Mr Hamilton said.
Mr Powell said: "I'm stunned by his comments in the email. I have broken no rules or laws."
He said he felt that "people who represent the people of Wales should live in Wales".
"I've spoken to the party and am confident my membership is safe but fear what Neil and his friends will do next," Mr Powell added.
"It's beginning to feel like they have issues with Nathan and anyone he's associated with because of Nathan's loyalty to Nigel Farage.
"Neil's calls for me to be expelled are wrong and I feel I'm due an apology."
'Totally unacceptable'
Mr Gill said: "This is a talented young man who I know well and who I have made provisions to employ on my staff in Brussels, but who is currently exploring the jobs market and building his career.
"For that to be jeopardised by this ongoing campaign of counter-briefings and leaks from within the party is totally unacceptable."
"As a Welsh taxpayer and voter he is more than entitled to question how an elected official is using the assembly's expenses provisions," he said.
"Llyr is not an employee of UKIP, so nobody in UKIP has it within their purview to call for him to be fired.
He added: "This is awful bullying behaviour by people who frankly should know better, but are instead focused on a spiteful effort to seek hegemony in the party, one person at a time."
Mr Hamilton declined to comment but, referring to Mr Powell, a spokesman said: "We have no intention of engaging in public debate with this tiresome and irresponsible juvenile.
"I confirm that Mr Hamilton has today made a disciplinary complaint against him."
A UKIP spokesman said the complaint was a matter "for those concerned".
Mr Powell had been due to stand for UKIP in Neath and South Wales West at the assembly election.
But he stood down in protest when the party refused to drop Gareth Bennett as a candidate for controversial comments blaming immigrants for litter in Cardiff.