Labour clears Newport councillor of anti-Semitism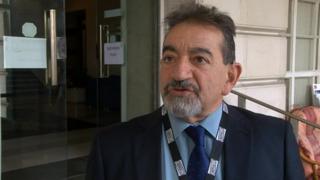 A Newport councillor suspended from the Labour party for alleged anti-Semitism has been reinstated after an inquiry.
Miqdad Al-Nuaimi was suspended in May over tweets including: "Jews in whose name #Israeli #Zionist regime commit war crimes should worry: its's same arrogant mentality as #nazis".
The Iraqi-born councillor has now been told by letter he has been cleared.
"I feel great," he told BBC Wales. "I've always campaigned against all forms of racism and discrimination."
Mr Al-Nuaimi, a councillor for the Stow Hill ward, had been suspended as part of an internal Labour inquiry into anti-Semitism launched following outrage at comments by the former London mayor Ken Livingstone.
The councillor insisted he had a right to be critical of Israel, saying at the time of his suspension: "How can I be anti-Semitic when I myself am Semitic?"
'Lesson'
After learning he had been cleared, Mr Al-Nuaimi said: "The lifting of the suspension has vindicated my stand.
"I make personal tweets - people might construe the wrong meaning.
"I suppose that's a lesson for me.
"In politics, we sometimes have to say things other people may not like."
Speaking of his two-month suspension, Mr Al-Nuaimi said: "It did have practical consequences on my role as a councillor.
"But the Newport Labour group was very supportive."