David Cameron resigns: Welsh MPs 'turfed out' of office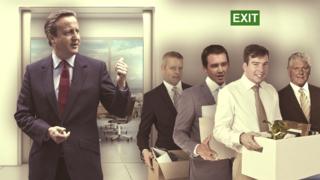 Four Welsh Tory MPs have been "turfed out" of their parliamentary office at short notice to make way for David Cameron, a colleague has said.
Chris Davies, Byron Davies, Craig Williams and James Davies are giving up their accommodation near the Commons chamber as Mr Cameron - MP for Witney - quits as prime minister.
One of the quartet joked that he was "now living out of a cardboard box".
Theresa May will take over as prime minister later on Wednesday.
Mr Cameron announced his intention to resign after the UK voted to leave the European Union at the referendum in June.
He was due to remain in office until September pending a Conservative leadership contest.
However, Mrs May was confirmed as his successor on Monday when her last remaining rival - Andrea Leadsom - pulled out of the race.
One Tory MP said his four Welsh colleagues had been "turfed out with very short notice" of their office as the handover was happening sooner than expected.