'Coup has failed' over Jeremy Corbyn's Labour leadership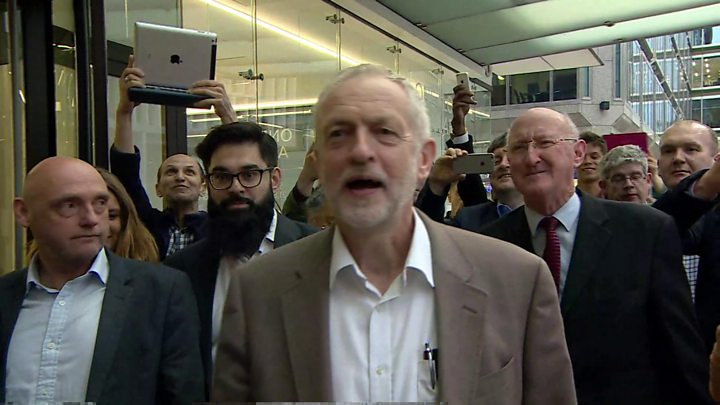 Labour MPs should stop trying to oust leader Jeremy Corbyn and "get back to hammering the Tories", a Welsh MP has said.
Newport West MP Paul Flynn's comments came after the party's National Executive Committee ruled Mr Corbyn will be automatically included on the ballot in Labour's leadership contest.
He is being challenged by former shadow minister Angela Eagle.
Mr Corbyn's opponents argued he needed the support of 51 MPs or MEPs to stand.
The secret NEC vote went 18-14 in the Labour leader's favour following hours of talks.
Following the result, Corbyn supporter Mr Flynn tweeted: "Coup has failed. Futile election should be scrapped and MPs should get back to hammering the Tories.
"Eagle should now abandon damaging election with predictable result and get Labour MPs back to work."
Only those who joined Labour before February will be able to vote in the leadership contest.
Anyone who joined after then will have to pay an extra £25 to become a "registered supporter" - and will only get a two-day window in which to do so.
Llanelli MP Nia Griffith, who quit her role as Shadow Welsh Secretary in protest at Mr Corbyn's leadership, has said it is essential new members cannot vote for the new leader of the party.
"We had a ridiculous situation in September where we had brand new members voting on for the new leader," she said.
She added she thinks it will be a very difficult time for Labour over the coming months but believed Ms Eagle had a very good chance of winning the race to become Labour leader.
Cardiff South and Penarth MP Stephen Doughty is backing Ms Eagle and welcomed the NEC's decision.
"Personally, I don't have a problem with it," he said. "For me, it's important a process happens.
"It's Labour party history that people have been able to challenge the leader and there was a contest with [Neil] Kinnock and there's a contest now, and that's fair and right."
Speaking outside the meeting, Mr Corbyn told a crowd of journalists and supporters: "So I'm on the ballot paper... and we will be campaigning on all the things that matter."