Cardiff's car-free day will only close one city street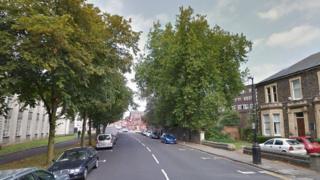 Cardiff's first "car-free day" in September will be limited to just one street, Cardiff council has said.
Councillors backed plans to ban cars in the city centre for one day each year, to cut air pollution, last October.
But the council has confirmed the first car-free day, on 22 September, will see only Park Place closed to traffic.
Council cabinet member Ramesh Patel said it would be "grossly irresponsible" to widen the area before the first plan had been reviewed.
Car-free days already take place in Delhi, Paris and London, and it is claimed air pollution is linked to tens of thousands of deaths in the UK annually.
In a statement, Mr Patel said the council was "highly supportive of traffic-free day and the principles behind it" and that it was an "important trial on a major road".
He said it would be "grossly irresponsible of us to widen the area until we have fully reviewed the implications of the current proposal", claiming "substantial public engagement and support" would be needed for car-free days to succeed.
"Whilst the Council places great importance on our environmental responsibilities we also have to be mindful of the economic consequences caused by the disruption of closing city centre roads," Mr Patel said.
He added that there would be "potential to grow the car-free day area in subsequent years following engagement and review of the current proposal".
Chris Weaver, a councillor who backed the motion to introduce car-free days in Cardiff, said that if they were handled correctly they could be a "really positive thing" for the city.
"I'd like to be able to say that this one's been so successful that we need to look to do it again, we need to look so see how we can make it bigger and better and more people in the city can take part," he said.