Corbyn's office 'cancelled passes of ex-shadow frontbench MPs' staff'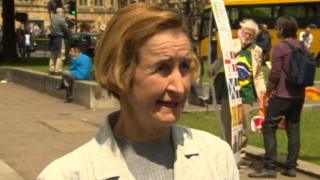 Jeremy Corbyn's office has been accused of trying to "terminate" Parliamentary passes held by people who work for former members of the shadow cabinet.
Former shadow Welsh secretary Nia Griffith said a member of her staff had his pass "deactivated" after an email was sent from Mr Corbyn's office to Parliament's pass office.
She said he was not the only one targeted in the email.
Commons Speaker John Bercow said he was aware of the "error".
He said the passes had now been re-instated.
Ms Griffith resigned from her role on the frontbench in protest at Mr Corbyn's leadership of the Labour Party.
She raised the issue about the passes as a point of order in the Commons and said she had notified Mr Corbyn of her intention to raise it.
"This email advised the pass office to terminate the passes of a number of staff working for former members of the shadow cabinet," she said.
"Can I seek your advice Mr Speaker on the propriety of members seeking to deactivate the passes of other members' staff?
"Would you be able to clarify the rules on this issue as I was under the impression that the question of authorising passes was the sole responsibility of the sponsoring member?"
Mr Bercow told Ms Griffith she was correct.
"I understand, I was conscious of this, that the passes of several members of staff were incorrectly suspended temporarily on Friday," he said.
"As soon as the error came to light the passes were re-instated.
"We do not discuss security matters on the floor of the House so I do not propose to say any more on this matter."