Crabb withdraws but 'overwhelmed' by MPs' support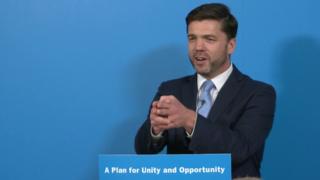 A day is a long time in politics, as Harold Wilson might say if he were around today.
Barely 12 hours after Stephen Crabb withdrew from the Conservative leadership race, one of his "best mates" struggled on air to remember his name.
Home Office Minister Mike Penning was being interviewed by John Humphrys on Radio 4's Today.
MP: "When people dropped out, like my good friends, Liam and erm, and er...oh, bear with me, erm, tut.........oh my brain is gone.....when the candidates dropped out yesterday, they automatically came in and supported Theresa from both sides of the party."
JH: "Stephen Crabb was the name you were struggling with."
MP: "Yeah and he's one of my best mates so I'm going to get shot when I get back in a minute...."
JH: "He won't forgive you for that!"
MP: "No, he won't."
I suspect Mr Crabb might be in forgiving mood after winning praise from MPs for his swift withdrawal from a contest in which many suspected he was intent on putting down a marker for a future leadership election.
'Overwhelmed'
He told the BBC: "I entered this leadership race with the overriding goal of putting two themes at the heart of the debate - unity for our divided nation and opportunity to tackle disadvantage in particular.
"And I've been overwhelmed by the support I've received from colleagues - those who voted for me today but those who didn't as well, but who made the point to me that they share my one nation vision and they want that one nation vision to be at the heart of the next Conservative government."
He said Theresa May was the only candidate in a position to unite the party and form "a cohesive and strong government".
Mr Crabb said he and Mrs May had spoken since the result of the first ballot was announced but he had neither asked for a job or been offered one.
'Turbulent'
His leadership bid lasted a week and was bumpy at times - he was forced onto the defensive over his vote against gay marriage - but succeeded in raising his profile and putting forward distinctive ideas.
His - and Sajid Javid's - argument that with borrowing so cheap it would make sense to "borrow to invest" to improve infrastructure is the sort of argument more often found in a Peter Hain book, although neither would thank me for the comparison.
There is an argument that the leadership vacancy came too soon, as he'd only spent "10 minutes" at the big-spending Department for Work and Pensions, and at the wrong time. He might have been more successful in a pitch for the job in opposition or in less turbulent Brexit times.
Mr Crabb sidestepped a question about whether he would stand for the leadership again, but at 43 time is on his side. And he can probably afford to give himself an evening off to watch the Wales semi-final.